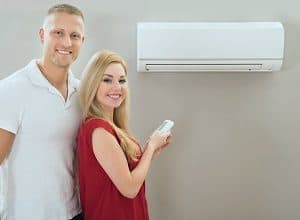 At Fairbairns Heating & Cooling, our dedicated and knowledgeable team is passionate about making the homes and offices of our customers' climates comfortable all year round. Thanks to our comprehensive and tailored approach, our customers throughout Melbourne's eastern suburbs will find just what they are looking for and more amongst our extensive collection of reputable air conditioners and heating units.
At Fairbairns Heating & Cooling, Wantirna customers will find a wealth of knowledge and a range of high-quality heating and cooling systems to choose from. Working with the best brands in the industry, our aim is always to bring our valued customers great deals on exceptional products.
Air Conditioning Wantirna
Keeping your home or workplace at the perfect temperature right through the heat of summer is much simpler when you have an air conditioning system that is tailor made for the space. Meeting our customers' needs with tailored ducted systems or carefully chosen wall hung split systems is all part of the service. When they choose our ducted air conditioning, Wantirna locals can expect a comprehensive inspection that determines duct and unit placement for the perfect cooling system.
If the building's layout or tight space restrictions won't allow for a ducted system, then we can recommend efficient and effective wall-hung split systems. Wantirna locals can choose reverse cycle systems for year-round temperature control and comfort or as a back up to their existing heating system.
No matter the size of your home, or your specific requirements, our range of air conditioning systems are suited for homes from Wantirna to Dandenong and the surrounding suburbs. To learn more about our approach or our exclusive installation services call us on 9870 7059.
Ducted Heating Wantirna
Keep everyone happy with the ducted heating Wantirna locals can count on to keep any home or workplace cosy throughout the winter months. With gas ducted heating you will have a flexible and efficient heating system that allows you better control over your home or work environment.
If you opt to zone your home, close off the vents to rooms that aren't in use or deliver a consistent level of heat to the whole building – the choice is yours. However you use your system, you're sure to see the benefits of this efficient heating method reflected in lower energy bills and a greater comfort throughout the chilly wintertime.
Evaporative Cooling Wantirna
For those customers who want to avoid the 'drying' effects of traditional air conditioners, or the need to 'trap' the cool air inside by closing doors and windows, evaporative cooling provides an innovative solution. With evaporative cooling, Wantirna locals can enjoy cool, moistened, and refreshing air anytime they wish in their home or workplace environment.
Areas We Serve