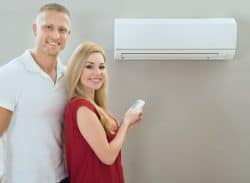 For over 30 years the skilled and passionate team at Fairbairns Heating & Cooling have delivered tailored climate control solutions to homes and small businesses throughout Melbourne's expansive south-east. Thanks to our unique and innovative approach we have cultivated a wide range of superior air conditioning units, evaporative cooling systems, and gas ducted heating perfect for the heating and cooling of Bayswater homes and small businesses. All our units have been built by renowned domestic and international manufacturers to give you complete peace of mind regarding their effectiveness.
Air Conditioning Bayswater
Reverse cycle air conditioning lets Bayswater locals control the temperature to their satisfaction year-round. Even if you already have a heating system installed, or are planning on getting gas ducted heating and don't think you need a system that provides both heating & cooling, a reverse cycle air conditioner is still a good option as it can provide you with back up heating should your heating system break down in the future.
For more information about the benefits of our air conditioning products and split systems, Bayswater locals can speak directly to a member of our helpful and knowledgeable team by calling us today on 9870 7059.
Ducted Heating Bayswater
We provide a range of services for ducted heating. Bayswater locals can contact us if they want a new system installed, or an existing one upgraded. We also provide duct repair and cleaning services and can install air conditioning add-ons with your new ducted heating system to create a complete ducted heating and cooling system. In specific circumstances we can even add air conditioning to your existing ducted heater.
If you are renovating or extending your house, then we can help with ducting redesign as well! One of the many benefits of gas ducted heating is the ability to control individual vents and airflow to different zones within the house if you have zoning motors installed. You shouldn't have to lose this function simply because you're renovating. Let us perform a ducting upgrade or adjustment so you can continue to enjoy the comfort of ducted heating in every room of the house.
Evaporative Cooling Bayswater
If you are looking for an energy efficient way to comfortably cool your home or workplace this summer, then why not consider evaporative cooling? Bayswater locals can have an evaporative cooling unit installed in the size that will comfortably cool their entire building, and you can even choose a unit in the colour that will best match your roof, so you hardly notice it's there.
Evaporative cooling won't dry out the air, making it great for asthmatics and allergy sufferers. As air passes through the moistened pads the heat evaporates, and cool, moist air can now circulate throughout your home, mimicking the feeling of a cool sea breeze.
Areas We Serve