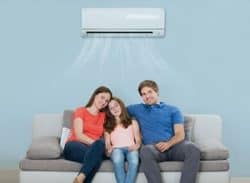 Have you been looking for a professional and affordable solution to your home or office's heating and cooling needs? For over 30 years the knowledgeable and reliable team at Fairbairns Heating & Cooling have striven to keep our customers throughout Melbourne's eastern suburbs comfortable all year round. By exclusively stocking heating and cooling units and systems that thrive in Australia's unique climate we can guarantee your satisfaction.
From wall hung split systems to ducted air conditioning, evaporative cooling, or gas ducted heating, you're sure to find the perfect solution is available from Fairbairns Heating & Cooling. Templestowe locals can contact the knowledgeable team for advice or a comprehensive quote.
Air Conditioning Templestowe
You don't have to suffer through another summer. If your air conditioning unit struggles on the hottest summer days or simply isn't working as well as it used to, then why not ask the Fairbairns team about an upgrade for your air conditioning. Templestowe home and business owners alike can choose the reverse cycle or cooling-only system that will best meet their requirements.
Ducted air conditioning provides a powerful and efficient system for whole building cooling, while smaller spaces and single rooms might be served better by a wall-hung split system. Templestowe customers will always be presented with a variety of options to choose from, and thanks to our connections to our preferred brands, you can also expect great deals and generous manufacturer warranties to be passed on in full.
To ensure that you find the right unit for your needs we proudly offer a wide range of high-quality air conditioning units perfect for Templestowe residents and beyond. Call us today on 9870 7059 to find out more.
Ducted Heating Templestowe
In addition to installing new systems, we also provide dedicated cleaning, maintenance, and repair services for ducted heating once the manufacturer's warranty period has elapsed. Customers can count on the Fairbairns team to keep their existing gas ducted heating systems in the best working order. We work with a range of brands, and these do not have to be systems that were originally installed by Fairbairns Heating & Cooling.
Evaporative Cooling Templestowe
Of course, air conditioning systems are not the only way to keep your home or workplace cool. With evaporative cooling, Templestowe locals can enjoy a system of cooling that doesn't require they keep the doors and windows closed to 'trap' the cold air inside. This is especially helpful for small business owners who want to create an open-door welcoming environment, and for homeowners who love their indoor/outdoor lifestyle.
Areas We Serve