Have you been looking for a way to ensure your home is comfortable all year round? Fairbairns Heating & Cooling provide air conditioning, gas ducted heating, and evaporative cooling in Mt Waverley and surrounds, spanning all your heating and cooling needs.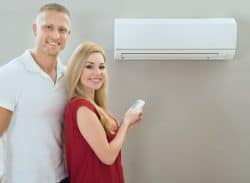 Air Conditioning Mt Waverley
We are committed to providing the highest quality products to our customers, which is why we only work with the world's leading air conditioning manufacturers like Daikin and Brivis. After helping you choose the right product, we also complete a precise installation of your new air conditioning system and assist with any maintenance required in the future, once the manufacturer's warranty period of your system has elapsed.
Those looking for air conditioning for their Mount Waverley home or business don't need to look any further than Fairbairns Heating & Cooling, Melbourne's air conditioning specialists.
Among the vast range of heating and cooling solutions, split systems are a very popular choice, particularly those with a reverse cycle function. Wall-hung split systems have the added advantage of being able to be specified in situations where ducted systems cannot be installed due to, for example, there being not enough room for the ducting in the roof cavity.
The reverse cycle function of many split systems makes them well-suited to Melbourne's tumultuous climate, so you can keep cool during the summer and warm during the winter. If you've decided you need a split system at your Mt Waverley home or small business, turn to the team at Fairbairns for precise installation and ongoing maintenance once the manufacturer's warranty period of your system has elapsed.
Enjoy control over your entire building's temperature thanks to Fairbairns Heating & Cooling's split system installations in Mt Waverley and surrounding suburbs and enjoy comfort all year round.
Ducted Heating Mt Waverley
We offer maintenance, cleaning and repair services to out of warranty systems as well as installation of new ducted heating in Mt Waverley homes and workplaces and throughout the nearby suburbs. Gas ducted heating is an efficient way to heat most buildings, so if you want to know whether this is the unobtrusive yet powerful heating system for you, then why not call the Fairbairns team to find out more today.
Evaporative Cooling Mt Waverley
Evaporative cooling has long been favoured by asthma and allergy sufferers, as well as those with sensitive skin or eyes that feel easily dried out by refrigerated air conditioners. Locals who love the outdoors also love the advantages of evaporative cooling in their Mt Waverley home, as this system will work more effectively with a constant exchange of fresh air from open windows or doors. This also makes it a great choice for small business owners who want to keep their doors open to the public without losing the precious cool air inside.
To talk to the experts in heating and cooling, Mt Waverley locals can call the Fairbairns team on 03 9870 7059.
Areas We Serve