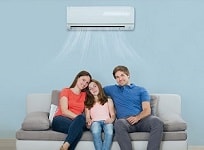 For over 30 years the dedicated and experienced team at Fairbairns Heating & Cooling have assisted countless Melbournians throughout the South-Eastern suburbs in finding the right climate control system for their needs and requirements.
Whether you need a comprehensive system to cover a small commercial building, or the home heating and cooling that will keep your family comfortable all year round, you can talk to the experts at Fairbairns Heating & Cooling. Boronia locals can expect to receive a quote from one of our senior installers, not a salesperson. This helps our customers to know that they can have confidence in the accuracy of our quotes – both with regards to the expected timeframe and the pricing.
Air Conditioning Boronia
To ensure that our customers find what they are looking for, we proudly stock a wide range of reputable air conditioning units ready for installation into Boronia homes and businesses. Working with a wide variety of highly respected brands also enables us to offer superior maintenance and repair services for the air conditioning in Boronia homes and small workplaces once the systems are out of the manufacturer's warranty period.
Choose the reverse cycle air conditioner that suits your needs, and we will carry out the installation service for your standalone or multi-head split system. Our licenced technicians will also provide the electrical certificate of safety that helps business and building owners fulfil their obligations and gives our residential customers complete peace of mind. So talk to us if you need a split system for your Boronia home or small business. We'll help you find the brand, size, and system that best meets your needs.
Ducted Heating Boronia
Gas ducted heating remains a very popular choice for heating commercial, and especially, residential, buildings, because of the ease with which this system can be used with maximum efficiency and effectiveness. The installation of zoning motors with Gas ducted heating gives Boronia residents greater control over how they use their heating. Always easily able to control the temperature, zoning motors gives property owners control over which rooms are heated at certain times of the day.
Evaporative Cooling Boronia
Keep your home cool the more natural way, with the power of evaporative cooling. Boronia residents can enjoy a constant influx of fresh, moistened air, and won't have to worry about keeping windows and doors tightly closed in order to keep the cold air inside.
To find out more about any of our heating or cooling options, call the team at Fairbairns today.
Areas We Serve