Cosy or cool: your call
A quality air conditioning system is essential to keeping your home or business comfortable and pleasant all year round. Whether you need a heating system to combat Melbourne's bitter winters or a cooling system to provide a reprieve from the summer, Fairbairns Heating & Cooling can assist with all your required air conditioning in Emerald and surrounding areas.
We understand air conditioners inside out and can provide expert product recommendations in line with your needs, complete seamless installations and provide ongoing maintenance over the lifespan of your air conditioning system, once the manufacturer's warranty period of your system has elapsed.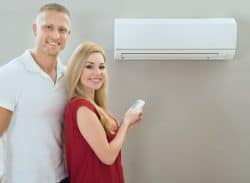 Some of our most popular air conditioning systems include split systems (both wall hung and ducted), gas ducted heating and evaporative cooling. Wall hung split systems are particularly suited to buildings where ducted systems are unable to be installed due to, for example, there not being enough space in the roof cavity for the ducting. Split systems are available with a reverse cycle function, allowing you to enjoy warmth in winter and cooling in summer. When considering Melbourne's constantly changing weather, reverse cycle split systems are an ideal option for air conditioning for Emerald residents.
If looking for a heating-only system, consider gas ducted heating, known for its discreet look and increased safety when compared to bulky radiator heaters or fireplaces. For a cooling-only option, consider evaporative cooling, renowned for the refreshing quality of air it provides and its energy-efficiency.
To determine the ideal air conditioning for your Emerald home or business, contact Fairbairns Heating & Cooling today. Our team will find an ideal solution tailored to your budget, lifestyle and the design of your property, as well as complete the installation and any required maintenance, once the manufacturer's warranty period of your system has elapsed.
Areas We Serve