For over 30 years the passionate and knowledgeable team at Fairbairns Heating & Cooling have provided residents throughout Melbourne's eastern suburbs with long-lasting and reliable heating and cooling solutions at competitive prices. Sourced from renowned domestic and international manufacturers, our air conditioning units deliver lasting relief for Vermont residents and beyond.
Create a cosy retreat in winter and a refreshing sanctuary in summer with the expert advice of the team at Fairbairns Heating & Cooling. Vermont locals can call us for a quote and expect affordable prices on the best systems that the heating and cooling industry has to offer.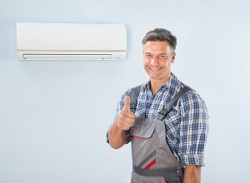 Air Conditioning Vermont
Whether you're running a small business where you need to keep staff and customers comfortable, or simply looking for an air conditioning system that makes summer evenings in your home bearable after the blistering heat of the day, the team at Fairbairns will consult with you to find the perfect solution.
With our ducted air conditioning, Vermont customers can easily keep an entire building at a consistent and comfortable temperature. For smaller spaces, however, a reverse cycle wall hung split system might prove the most efficient option.
Renowned for their innovative design and low volume energy use during operation, Fairbairns has installed numerous split systems throughout Vermont and the surrounding suburbs. Easy to install and maintain, these air conditioners can provide comfort during the height of the Australian summer. Learn more today by calling 9870 7059.
Ducted Heating Vermont
Installing gas ducted heating in Vermont homes and small businesses, new and existing, for over 30 years, there isn't much that the Fairbairns team don't know about this efficient heating system. In addition to installing new systems, we can also clean, repair, and maintain existing systems once the manufacturer's warranty period has elapsed to extend the life of your gas ducted heating.
Evaporative Cooling Vermont
Enjoy the refreshing benefits of a cool summer breeze whenever you want, with evaporative cooling. Vermont locals are sure to love the invigorating feel of the fresh, evaporatively cooled air, that is not drying to skin or eyes.
Because the air is cooled as it passes through moistened pads in the cooling unit, there's also no need for refrigerant gas, and the cool air produced is moist and not dry.
With evaporative cooling it's best to open up some windows or doors for a constant exchange of fresh air, and so you never get that stale air feeling either.
Areas We Serve