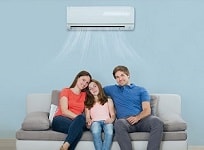 At Fairbairns Heating & Cooling we strive to provide just that; comprehensive heating and cooling solutions. Thanks to our personalised and passionate approach, we have helped countless customers across Melbourne's eastern & south-eastern suburbs to keep their properties as comfortable as possible. To find out more about our solutions for the perfect heating and cooling, Croydon residents can call us today.
Air Conditioning Croydon
Are you after a long-lasting, easy-to-run, efficient and effective air conditioning unit for your home or office? Committed to helping our customers select and install the right air conditioner for their needs and requirements, the skilled and professional team at Fairbairns Heating & Cooling have a wide range of air conditioning units produced by renowned manufacturers, perfect for Croydon homes.
When they have the right air conditioning, Croydon customers can find themselves using less energy to achieve better results. You can lower your power bills simply by having an air conditioning system that runs more efficiently.
There are a range of options available to suit different needs. We work with the best brands and offer a wide variety of ducted air conditioners or wall-mounted split systems. Croydon locals who would like to find out which option might be best for their home or workplace can call us today.
Ducted Heating Croydon
Seamlessly able to disperse heat across all installed rooms at an even temperature, ducted heating systems are a superior choice for keeping even the largest property comfortably warm over the cold winter months. Thanks to our expertise in installing customisable and reliable ducted heating, Croydon residents can trust us to keep their rooms warm year-round.
Evaporative Cooling Croydon
With energy-efficient yet highly effective evaporative cooling, Croydon locals can enjoy the cooling effects of a refreshing sea breeze whenever they want. Evaporative cooling feels so refreshing because it mimics the natural cooling effect that occurs when hot air passes over a body of water. In the case of evaporative cooling units, the hot air passes through moist pads within the unit – the heat evaporates, and the chilled and moistened air is then dispersed throughout the building.
This gives the air produced by evaporative coolers a very different feel to other cooling systems. The air isn't dry and stale, and so it has a much lower chance of irritating the eyes, nose, throat, and skin. This makes evaporative coolers a particular favourite amongst allergy and asthma sufferers.
If you have been considering the benefits of evaporative cooling, then why not call the team at Fairbairns Heating & Cooling for a quote today.
Areas We Serve