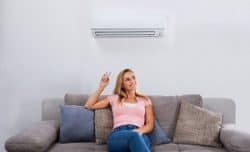 At Fairbairns Heating & Cooling we endeavour to provide a comprehensive and reliable service for our customers – one that is tailored to their needs and requirements. Rather than a visit from a pushy salesperson, one of our senior installers will provide your free, no-obligation quote. This ensures the accuracy, both of our quoted price, and the expected timeframe for installation of a new heating or cooling system.
With so many options on the market, it is important to get the right system for your building and usage needs. Whether for a workplace where the heating and cooling systems run throughout the day, or a home where the peak usage times will be morning and evening, you can rely on the highly experienced team at Fairbairns Heating & Cooling to walk you through the most energy-efficient options for your space.
When they want the very best in heating and cooling, Blackburn locals can talk to the respected local team at Fairbairns.
Air Conditioning Blackburn
Sourced from the most renowned domestic and international manufacturers, our air conditioning systems are suited for homes in and around Blackburn. We can also recommend and install the more powerful air conditioning units Blackburn small business owners can rely on to keep the entire workplace happy.
From fully ducted systems, to wall-mounted reverse cycle split systems, Blackburn home and small business owners will find a wealth of knowledge and experience within the team from Fairbairns.
Ducted Heating Blackburn
Keep your home or small business premises toasty and warm right through the winter months with gas ducted heating. Blackburn locals can rely on Fairbairns' generous 6-year workmanship warranty, and excellent after-sales care when they choose us to install the ducted heating system in a new or existing property.
If you already have gas ducted heating at your place, then you can call on us anytime you need us for professional cleaning, maintenance, and repair services once your systems are not under the manufacturer's warranty. The best way to keep your ducted heating working efficiently is with the regular servicing that keeps everything running smoothly and safely.
Evaporative Cooling Blackburn
For over 30 years, the passionate team at Fairbairns has helped countless Melbournians find the right air cooling system for their home. Designed to reduce energy consumption and pump fresh and clean cool air through the house, evaporative cooling is a viable alternative to conventional air conditioning units.
Because the air is cooled through water, rather than refrigerant, evaporative cooling provides a more environmentally friendly option for cooling your home. It is also better for allergy sufferers and doesn't 'dry out' the air inside your building. To learn more about evaporative cooling, Blackburn locals can call us today on 9870 7059.
Areas We Serve