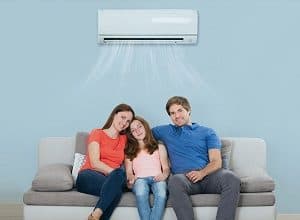 Drawing on over 30 years of unique and tailored experience and training, we strive to provide our customers with a complete experience from the moment they first call us. When they ask for a quote from the expert team at Fairbairns Heating & Cooling, Mitcham locals can expect to speak with one of our senior installers who will be able to provide an accurate quote, both in terms of timeframe and price.
In addition to new installations, we also provide servicing, cleaning, repair and maintenance services for both heating and cooling systems that are no longer under the manufacturer's warranty period, ensuring that they continue to work both efficiently and safely for many years.
Air Conditioning Mitcham
Committed to keeping homes and businesses throughout Melbourne cool over the extreme Australian summer, the professional team of technicians at Fairbairns Heating & Cooling are here for you.
With a thorough knowledge of all the best brands in air conditioning, Mitcham locals can count on the advice of our team. You can also count on us to pass on great deals and generous manufacturer warranties, due to our excellent relationship with all the brands that we provide.
Our wide range of available air conditioning units ensures that customers in and around Mitcham will find the best unit for their home or small business amongst our collection. To learn more about our outstanding approach and our extensive stock of ducted air conditioning and split systems, Mitcham locals can call us today.
Ducted Heating Mitcham
Nothing helps you beat the winter chill quite like customised gas ducted heating. Mitcham locals can have a system installed in their new home, request a quote for an upgrade to an existing system, or to have vents and ductwork retrofitted in their home or workplace.
With vents in every room, gas ducted heating provides our customers with a high level of control over their daily heating needs. Keep the entire building at a constant, comfortable temperature, or close off the vents to rooms that are not in use. If certain rooms get morning or afternoon sun that means they have different heating needs to the rest of the building, then you can customise your system for this consideration too.
Evaporative Cooling Mitcham
If you're concerned about the use of refrigerant gas in your cooling system, or simply want the option to have open windows or doors while the cooling system is running, then why not talk to us about powerfully efficient evaporative cooling? Mitcham customers can also rely on us to safely and responsibly dispose of any existing system that the evaporative cooling is replacing or to find the best positioning for a new system in homes and workplaces where one has not previously been installed.
Areas We Serve