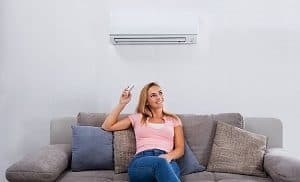 For the very best in heating and cooling, Burwood locals can contact the experts at Fairbairns Heating & Cooling. When you ask for a quote from Fairbairns, one of our senior installers will come to you to provide the assessment. Finding the best heating or cooling solution is simple when you have over 30 years of industry expertise. You can also expect a high degree of accuracy from our quotes.
So whether they have been considering ducted heating, evaporative cooling, or air conditioning split systems, Burwood locals will find a wealth of choice and expert advice from the team at Fairbairns Heating & Cooling.
Air Conditioning Burwood
Have you been sweltering through hot days and unbearable nights thanks to an air conditioner that just can't keep you cool? For over 30 years the professional and dedicated team at Fairbairns Heating & Cooling have kept countless homes across Melbourne's eastern suburbs comfortable thanks to our tailored approach and innovative systems. By sourcing our air conditioning units from renowned manufacturers, customers around Burwood and beyond can rely on the effectiveness of our solutions.
In addition to helping you find the right air conditioner our passionate team will also seamlessly install it in your home or office for you. To speak to one of our technicians about our air conditioning, Burwood residents can contact us today.
Ducted Heating Burwood
Don't freeze next winter. Call Fairbairns Heating & Cooling and get a free comprehensive quote for ducted heating installation. This powerful and efficient method of heating is ideal for both homes and workplaces; and can be easily adapted to suit buildings of different sizes, catering to both single storey, and multi-storey premises and dwellings.
If you already have gas ducted heating at your place but aren't sure whether it is operating as effectively as it could be and it is out of warranty, then why not call us to ask about our affordable cleaning, maintenance, and repair services? Whatever questions they have regarding ducted heating, Burwood locals can contact the experienced Fairbairns team for the answers they seek.
Evaporative Cooling Burwood
Wake up to a home that is refreshingly cool, not one that is either too chilly or unbearably hot. The more natural cooling provided by evaporative cooling means you don't have the extreme fluctuations of heat and cold, while the fact that you can keep the windows open for a constant flow of fresh air means that you aren't trapping stale, dry air within the house.
To find out more about the available options in heating and cooling solutions, including ducted evaporative cooling, Burwood locals can call the Fairbairns team today.
Areas We Serve