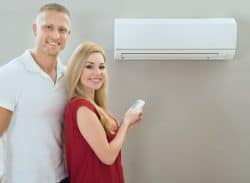 No matter your heating or cooling needs and requirements, the knowledgeable and attentive team of technicians at Fairbairns Heating & Cooling are here for you! Whether you need to heat an entire office building or keep a sunny living area cooler in summer, the team at Fairbairns will create a custom solution for you.
Whether for heating or cooling, Pakenham customers should expect detailed product knowledge and exceptional deals. Because Fairbairns has been working with the best brands in the industry for over 30 years, we are able to pass on any package deals or special offers directly to our customers, so that they benefit from these, as well as the generous manufacturer warranties that come as standard.
Air Conditioning Pakenham
Drawing directly on over 30 years of tailored service, we can provide superior air conditioning solutions to home and small business owners in and around Pakenham with ease. Our range of air conditioners have been produced by reputable manufacturers for the peace of mind of our customers.
Whether they want split system or ducted air conditioning, Pakenham customers can have a customised cooling solution that perfectly meets their needs. Reverse cycle split systems let Pakenham homeowners stay comfortable, whatever the weather, while a ducted system will allow small business owners to control the temperature throughout their office, retail store, or warehouse from a central location.
Ducted Heating Pakenham
Staying warm through the winters is easy, with powerfully efficient gas ducted heating. Pakenham homeowners and small business owners alike can reap the rewards of this very effective method of heating that can be used throughout an entire building, or in selected rooms at any given time.
At Fairbairns Heating & Cooling we proudly stock innovative and exceptional systems suited to deliver comfort in the harsh Australian climate. Thanks to our customisable ducted heating our Pakenham customers will be able to stay warm, even on the coldest of winter nights. Call us on 9870 7059 today to learn more about how we can help you.
Evaporative Cooling Pakenham
Keep your cool with the evaporative cooling Pakenham homeowners love for its refreshing feel, and that Pakenham small business owners love because they can keep the doors open to customers without the fear that they will lose all their expensive cold air. Throw the doors open to your home's backyard, your café's courtyard or your retail store's shopfront, and experience the difference evaporative cooling makes as the efficiency with which it works is actually increased by this constant flow of fresh air.
Areas We Serve