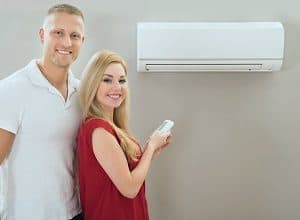 If you are searching for the very best in heating and cooling for your Endeavour Hills home or small business, then look no further than the family-operated company who have been in operation for over 30 years.
The expert team at Fairbairns Heating & Cooling work with all the best brands to bring you the very best in temperature control for your place. Stay cool all summer long, and warm up in winter with the heating and cooling systems that are custom-tailored to meet your unique requirements.
Air Conditioning Endeavour Hills
For air conditioning that can keep an entire building cool without costing the earth, ask the Fairbairns team about the many different options available to you, from reverse cycle wall hung split systems to ducted air conditioning. Endeavour Hills locals can call on the Fairbairns team for a comprehensive quote on any of our systems.
We also provide the air conditioner repairs, cleaning, and maintenance that will keep workplace and home cooling systems operating at their very best once the manufacturer's warranty period has elapsed. These affordable services are well worth the price, with both the increased quality of air and the greater efficiency of your air conditioning system following servicing.
So whether you need maintenance, repairs, or installation of a new ducted air conditioner or reverse cycle wall hung split system, Endeavour Hills locals can contact the Fairbairns team to have their questions answered today.
Ducted Heating Endeavour Hills
Have you considered keeping your home warm this winter with gas ducted heating? Endeavour Hills locals who are sick of shivering through the colder months can give the Fairbairns Heating & Cooling team a call to receive a comprehensive quote from one of our senior installers.
You won't be pressured by pushy salespeople when you call Fairbairns. Instead, you will receive a comprehensive quote and expert advice from a licenced and experienced installer.
Ducted heating is a worthwhile investment for both residential and commercial premises, and though the initial cost may be higher than the many cheap space heaters on the market today, it won't be long before you see the savings with this system's energy-saving efficiency. Not to mention the superior heating that helps you stay comfortable whatever the weather.
Evaporative Cooling Endeavour Hills
When summer is just around the corner, your thoughts will naturally turn to how to keep your building cool and comfortable. Why not stay cool with the more 'natural' option provided by evaporative cooling? Endeavour Hills locals can leave the doors and windows open for a refreshing breeze, and with air circulated through moistened pads, rather than being cooled by refrigerant gas, you get a cooling system that is more environmentally friendly and feels more natural too.
Areas We Serve