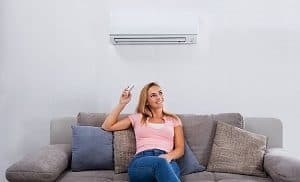 From evaporative coolers to gas ducted heating, Fairbairns Heating & Cooling customers can rely on our team to live up to the company name and provide the very best in heating and cooling. When Mooroolbark locals request a quote from the Fairbairns team, they know that they will receive advice from a senior installer, rather than a salesperson.
Whatever your particular needs and preferences, we can assess which heating or cooling system will work most efficiently in any given space, all while meeting your needs for efficient and effective heating or cooling.
From evaporative cooling to split systems, Mooroolbark locals won't have to sweat through next summer. And with a variety of options available in gas ducted heating and reverse cycle air conditioning, you can keep your home or workplace cosy in the winter months too.
Air Conditioning Mooroolbark
Are you in need of reliable and tailored air conditioning support and advice? Has your home's current air conditioner recently broken down or begun to fail to effectively cool your building? For over 30 years the attentive and professional team at Fairbairns Heating & Cooling have aimed to provide customers throughout Melbourne's eastern suburbs with year-round comfort at a competitive price.
Thanks to our range of exceptional and innovative split systems and options in ducted air conditioning, Mooroolbark home and small business owners can trust us to keep their properties cool. To find out more about our efficient and effective systems or our exclusive installation services call us on 9870 7059.
Ducted Heating Mooroolbark
If your gas ducted heating came with the house or simply hasn't been serviced in a while and is out of warranty, then why not call the team at Fairbairns to inquire about our affordable cleaning and maintenance services. The best way to keep the ducted heating in your Mooroolbark home or office working efficiently and safely, is with regular, professional cleaning and servicing.
We also offer installation of new ducted heating systems, providing the tailored approach to installation that comes with many years of professional experience.
Evaporative Cooling Mooroolbark
Many of our customers choose evaporative cooling for their Mooroolbark home or small business because of the quality of air that is kind to allergy sufferers, and those with dry skin or sensitive eyes. Another advantage that many appreciate is the ability of an evaporative cooling system to operate effectively when the windows are open for a constant flow of fresh, cool air.
Whatever your reasons for considering evaporative cooling, ducted heating, split system or ducted air conditioning, you can call the Fairbairns team for expert advice and competitive prices.
Areas We Serve