Split systems are available as wall-hung systems or ducted systems and are popular across Melbourne. Wall-hung split systems are a particularly popular option as they can be specified in situations where ducted systems are unable to be installed due to, for example, there not being enough space in the roof cavity for the ducting. Split systems come with a reverse cycle function, meaning you can stay cool in summer and warm in winter, all thanks to the one system. This makes split system installation vital for easy heating and cooling in Beaconsfield and in Melbourne as a whole, due to the city's extreme temperature fluctuations.
Have easy control over your home's temperature and stay comfortable all year round with Fairbairns Heating & Cooling's split systems for Beaconsfield and surrounds.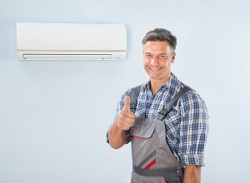 Air Conditioning Beaconsfield
Have you been looking for a way to enjoy a more comfortable home, no matter the weather? Fairbairns Heating & Cooling can assist you with air conditioning in Beaconsfield and surrounds whether you require heating, cooling or both.
Fairbairns Heating & Cooling only work with the world's leading air conditioning manufacturers, as we are committed to providing the highest quality of products to our customers. After helping you choose the appropriate system and model for your lifestyle and budget, we will then complete a seamless, precise installation of your new air conditioning system. Fairbairns Heating & Cooling also has the expertise to provide ongoing maintenance and repairs as needed, once the manufacturer's warranty period on your air conditioning system has elapsed.
Those looking for air conditioning for their Beaconsfield home or small business should look no further than Fairbairns Heating & Cooling, Melbourne's air conditioning specialists.
Ducted Heating Beaconsfield
For an effective and thoroughly efficient ducted heating system, Beaconsfield locals can call the team at Fairbairns Heating & Cooling for a competitively priced quote. In addition to our installation services, we can service and repair ducted heating systems to keep them operating at their best.
Evaporative Cooling Beaconsfield
Looking for a reprieve from the sweltering summer? The answer lies in evaporative cooling! Beaconsfield residents can enjoy fresh, cool air throughout their homes with evaporative cooling, thanks to the system's reliance on water as opposed to refrigerant. This means that the air is not drying to sensitive skin or eyes and, also, consumes less energy than refrigerated air conditioning systems.
Enjoy the benefits of reduced energy bills and a lower carbon footprint by installing evaporative cooling at your Beaconsfield home or small business: contact us today to find out if evaporative cooling is right for you.
Fairbairns Heating & Cooling are your local experts for air conditioning in Beaconsfield and the surrounding areas, providing ducted heating, evaporative cooling, split systems and more. Call us today to see what we can do for you!
Areas We Serve