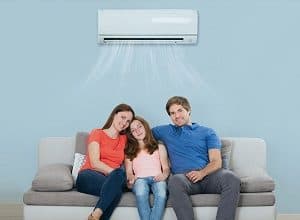 Have you had your fill of air conditioners that don't adequately cool your home? Heating that is effective but costly? Or cheap but ineffective? Are you looking for a company that strives to put your needs and requirements first?
Your search is over thanks to the passionate and knowledgeable team at Fairbairns Heating & Cooling. Camberwell customers can count on us to listen to their concerns, and to help them find cost-effective and thermally efficient solutions. During our 30 years of operation we have aided countless residents throughout Melbourne's eastern suburbs with their climate control desires.
Air Conditioning Camberwell
From wall-mounted to floor-standing, under ceiling, cassette and bulkhead units, there are numerous types of indoor units to suit a variety of needs for efficient and effective air conditioning. Camberwell customers can count on our experienced technicians to help them determine which system will best suit their particular needs.
From a simple standalone unit for the living room, to a multi-head split system that Camberwell small business owners can rely on to cool up to eight rooms simultaneously, we work with a range of brands, keeping up to date with the latest innovations so we can bring the very best in technology and design to our valued customers.
Sourcing our air conditioning systems from renowned manufacturers means Camberwell home and small business owners can trust us to provide them with reputable and high-output cooling solutions. Call us on 9870 7059 today to find out more about the benefits of our tailored approach.
Ducted Heating Camberwell
Keeping your home or workplace warm in winter can prove difficult when you don't have a dedicated heating system that was designed to suit the building.
With gas ducted heating, Camberwell locals have greater control, because the system is designed to suit the space, with vents in each room that can be opened or closed, manually or remotely, depending on the system.
Evaporative Cooling Camberwell
We provide installation and servicing of the evaporative cooling Camberwell customers can count on to cool their home in a more natural way. If your idea of the perfect summer is indoor/outdoor dining, and long lazy evenings with doors and windows open to the fresh air, then evaporative cooling will offer you the efficient and cost-effective solution that air conditioning can't.
Whatever your idea of the ideal heating or cooling system, you can rely on the experience and skill of the Fairbairns Heating & Cooling team. We will help you find the best options for your space, before providing the exceptional installation service and after-sales care that our customers deserve.
Areas We Serve