Comfort all year round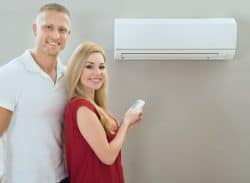 Every home and business needs a quality air conditioning system to create a comfortable living or working environment in an energy-efficient, cost-effective way. Businesses need to ensure that customers feel at ease and that employees can focus on their work, not on how uncomfortably warm or freezing cold it is inside. Similarly, your home should always be a place of rest and relaxation which is hard to achieve when you're rugged up in blankets or sweating profusely. A quality air conditioning system, therefore, is key for comfort all year round.
When it comes to finding air conditioning in Clyde or surrounding areas, look no further than Fairbairns Heating & Cooling. Providing a full suite of air conditioning services that includes installations and maintenance and servicing, once the manufacturer's warranty period on your system has elapsed, Fairbairns Heating & Cooling have established ourselves as the leading team for heating and cooling solutions.
Those seeking complete air conditioning for their Clyde home or business should consider split systems, which often have a reverse cycle function to provide heating in the winter and cooling in the summer. Given Melbourne's wild temperature fluctuations, reverse cycle split systems are a popular choice for many. They are available as both wall hung or ducted systems.
Some other air conditioning systems provided by Fairbairns Heating & Cooling include gas ducted heating, evaporative cooling and hydronic heating, each of which is suited to different types of buildings and consumption requirements.
If you are struggling to choose which type of air conditioning is best for your Clyde home or business, contact Fairbairns Heating & Cooling for expert recommendations tailored to your budget, lifestyle and needs.
Areas We Serve