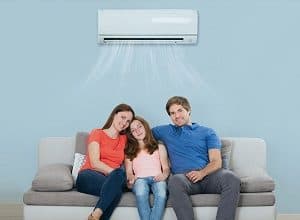 For the heating and cooling Doncaster locals can rely on, call the experienced team at Fairbairns Heating & Cooling. For over 30 years our family-owned and operated company has made sure that homes and small businesses within the local area have the heating and cooling solutions they need to stay comfortable year-round.
From evaporative cooling to gas ducted heating or ducted and wall-mounted air conditioners and reverse cycle split systems, Doncaster locals can call on the Fairbairns Heating & Cooling team to install, repair, and maintain a variety of systems from a range of trusted brands.
Air Conditioning Doncaster
Are you in need of an air conditioner that can adequately cool your home during the height of the Australian summer? Committed to delivering a reliable and personalised range of climate control solutions, the team at Fairbairns Heating & Cooling are here for you. Thanks to our selection of innovative air conditioning units Doncaster residents and beyond can turn to us to keep them cool all year round.
At Fairbairns, we strive to deliver a complete and tailored heating and cooling experience to all of our customers throughout Melbourne's eastern and south eastern suburbs. Our skilled technicians provide affordable air conditioning installation to our customers in and around Doncaster. Call us today to book your installation.
Ducted Heating Doncaster
Imagine coming home to a system that will heat the whole house at the flick of a switch. Or one that will heat only the rooms that you want, when you want. Each ducted heating system is customised to fit perfectly within the building. So whether it's for your home or workplace, you will have a responsive system that is perfectly adapted to your needs.
If you already have gas ducted heating in your Doncaster home, but think it might be time for an upgrade, then why not call the Fairbairns Heating & Cooling team to see what we can do. Often a clean and some simple maintenance will have your older, out of warranty ducted heating system performing at it's best in no time. However, if further repairs are needed then this is usually a straightforward and cost-effective process that our technicians can easily perform.
Evaporative Cooling Doncaster
To try a more natural style of cooling, why not have a look at the many benefits of evaporative cooling? Doncaster locals can call on our senior installers for a consultation that helps them decide whether this is the right method of cooling for them.
To find out whether evaporative cooling, ducted or wall-mounted air conditioning is the right choice for your home or small business, give Fairbairns Heating & Cooling a call.
Areas We Serve