Keeping Mulgrave cool
Looking for a way to enjoy a comfortable environment at home all year round? Fairbairns Heating & Cooling are the experts when it comes to air conditioning in Mulgrave and surrounds, providing a full suite of air conditioning services to our customers.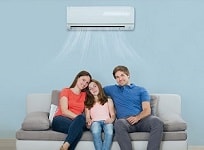 Our expertise allows us to recommend the appropriate air conditioning system for each of our customers, in line with their budget, lifestyle and the layout of their home. We then complete a precise installation of your new air conditioning system, ensuring you can enjoy its benefits as soon as possible. Our team will also be on hand to provide any required repairs as well as regular ongoing maintenance throughout the lifespan of your air conditioning system, once the manufacturer's warranty period of your system has elapsed.
This full suite of air conditioning services has set Fairbairns Heating & Cooling apart as the experts in all things air conditioning. Mulgrave residents can rely on us for quality products, expert advice and prompt service across the heating and cooling field.
Cosy or cool: your call
Split System Installation Mulgrave
Split system installations in Mulgrave are one of our most in-demand services, with reverse cycle split systems being particularly well-suited to Melbourne's climate due to their ability to both heat and cool. Split systems are available as wall hung systems or can be ducted throughout your home or business. Wall Hung Split systems have the added advantage of being able to be specified in situations where ducted systems are unable to be installed due to, for example, there not being enough room for the ducting in the roof cavity.
Enjoy complete control over your home's temperature all year round with Fairbairns Heating & Cooling's split system installations in Mulgrave and surrounds: call us today to find out how we can help.
Areas We Serve