When they're searching for the very best in heating and cooling, Mulgrave locals can find the answers and expert services that they seek, from a trusted local company that has been in operation for over 30 years. The team at Fairbairns Heating & Cooling use their years of experience and relationships with the best brands in heating and cooling to ensure that they can always bring each one of our valued customers the very best deals.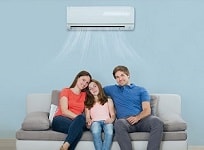 Air Conditioning Mulgrave
Looking for a way to enjoy a comfortable environment at home all year round? Fairbairns Heating & Cooling are the experts when it comes to air conditioning in Mulgrave and surrounds, providing a full suite of air conditioning services to our customers.
Our expertise allows us to recommend the appropriate air conditioning system for each of our customers, in line with their budget, lifestyle and the layout of their home. We then complete a precise installation of your new air conditioning system, ensuring you can enjoy its benefits as soon as possible. Our team will also be on hand to provide any required repairs as well as regular ongoing maintenance throughout the lifespan of your air conditioning system, once the manufacturer's warranty period of your system has elapsed.
This full suite of air conditioning services has set Fairbairns Heating & Cooling apart as the experts in all things air conditioning. Mulgrave residents can rely on us for quality products, expert advice and prompt service across the heating and cooling field.
Split system installations in Mulgrave are one of our most in-demand services, with reverse cycle split systems being particularly well-suited to Melbourne's climate due to their ability to both heat and cool. Wall-hung split systems have the added advantage of being able to be specified in situations where ducted air conditioning systems are unable to be installed due to, for example, there not being enough room for the ducting in the roof cavity.
Enjoy complete control over your home's temperature all year round with Fairbairns Heating & Cooling's split systems for Mulgrave and surrounds. Call us today to find out how we can help.
Ducted Heating Mulgrave
When you request a quote from the Fairbairns team you'll get a visit from one of our senior installers who can accurately assess both your personal preferences and the physical requirements of the heating unit for the particular building and each room within the space.
One of the many advantages of gas ducted heating that Mulgrave customers value is the ability to completely customise the system to suit their home or workplace.
Evaporative Cooling Mulgrave
There's nothing better than a refreshing sea breeze on a scorching hot summer day, and now Mulgrave locals can experience this feeling in their own home. Evaporative cooling works by evaporating the heat from the air as it passes through moistened pads within the cooling unit. This not only means that the air is cool, but that it is moistened and fresh, and doesn't have the same drying effects as other cooling methods.
To find out more about any of our heating and cooling options, including refreshing and efficient evaporative cooling, Mulgrave locals can call the Fairbairns team on 9870 7059.
Areas We Serve