Have you been looking for heating and cooling solutions that meet your specific needs and requirements? Do you want a comfortable environment in your home or office all year round? For over 30 years the skilled and attentive team at ​Fairbairns​ Heating & Cooling have helped keep Melbournians warm in the winter and cool in the summer thanks to our superior units and systems. With our efficient systems for both heating and cooling, Ringwood residents have reaped the benefits of having complete climate control at their fingertips.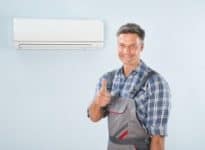 Air Conditioning Ringwood​​
At Fairbairns Heating & Cooling we strive to take the stress out of the entire heating and cooling process. To ensure that your unit is integrated into your property without incident, our knowledgeable technicians will draw up detailed plans for prompt installation of air conditioning throughout Ringwood and the surrounding areas for an affordable price.
When you ask for a quote from the team at Fairbairns you won't have to deal with pushy salespeople. Instead, we'll send one of our senior installers to you to provide a comprehensive assessment and the accurate quote that helps you decide which type of air conditioning unit or system is right for you. From ducted air conditioning to reverse cycle split systems, Ringwood locals will find it all at Fairbairns.
Ducted Heating Ringwood​​
Do you want evenly distributed heat throughout every room of your home or office? At Fairbairns we are committed to delivering the highest quality and most reliable ducted heating to Ringwood homes. Seamlessly installed in the roof or beneath the floor, our ducted heating offers safe and comfortable heating all-year-round.
Maintenance couldn't be simpler, and if you think it's time that your out of warranty gas ducted heating system received a clean, or had some much-needed repairs, then call the Fairbairns Heating & Cooling team for an affordable quote.
Evaporative Cooling Ringwood​​
The perfect option for environmentally conscious customers or people suffering from an allergy to dust – evaporative coolers disperse clean and liquid-cooled air while also refreshing the interior space with fresh air drawn from outside the home.
No longer will you have to shut out the outside world. With evaporative cooling you can enjoy outdoor entertaining, or a refreshing breeze, and your cooling system will continue to run efficiently and effectively. Unlike some forms of air conditioning there is no need to 'trap' the cold air inside, so you can enjoy having the doors and windows open whenever you want.
To learn more about the many benefits of evaporative cooling, Ringwood residents and beyond can call us today on 9870 7059.
Areas We Serve