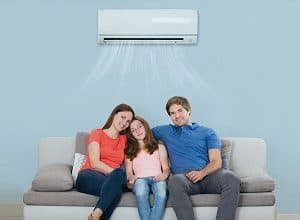 Providing a range of options in heating and cooling to Lysterfield locals and those in the nearby suburbs for over 30 years, Fairbairns Heating & Cooling are proud to remain a family-owned company with a team of licenced installers who provide the very best in ducted and wall-hung split system air conditioning.
Other popular options provided by Fairbairns Heating & Cooling include gas ducted heating and evaporative cooling, to name just a handful. Each of these systems are suited to different consumption levels and styles of homes, so speak to our team to understand which will work best for you.
Air Conditioning Lysterfield
Looking for a quality air conditioning solution for your home or small business in Lysterfield? Fairbairns Heating & Cooling provide installation of a wide variety of air conditioning systems, as well as repairs and servicing for systems no longer covered by the manufacturer's warranty period.
Those needing total, all-year-round air conditioning in Lysterfield should look to our range of air conditioners, which are available as both wall-mounted and ducted systems and often come with a reverse cycle function. This means you can enjoy cosy winters and cool summers, all thanks to the one system. Given Melbourne's wild temperature fluctuations, it's easy to see why reverse cycle split systems are so popular throughout the city.
Simply speak to our team to determine which type of air conditioning suits your Lysterfield home or business, according to your budget, lifestyle and needs.
When it comes to finding the right ducted air conditioning or split system for your Lysterfield home or business, just turn to Fairbairns Heating & Cooling for tailored product recommendations.
Ducted Heating Lysterfield
Gas ducted heating is ideal for those wanting a discreet heating solution, as opposed to a bulky radiator or portable heater. Gas ducted heating also provides consistent heating throughout your home, maintaining a constant state of cosiness. This helps you use less energy on heating overall, as your heating is customised to the layout and structure of your building.
Another advantage of ducted heating for Lysterfield homeowners is the ability to close off the vents in rooms while they are not in use, directing the heating only to the rooms where it is needed.
Evaporative Cooling Lysterfield
Evaporative cooling is another popular system, perfect for those wanting fresh, naturally cool air during the summer. Its energy-efficient nature and reliance on water, as opposed to refrigerant gas, makes it a popular solution for the environmentally conscious.
To ask about any of our heating or cooling systems, including evaporative cooling, Lysterfield locals can call the experienced team at Fairbairns on 03 9870 7059.
Areas We Serve